So the I'm-sure-you-have-the-virus-that-everyone-has turned out to not be a virus at all but a yucky case of strep throat coupled with a raging case of tonsillitis due to the condition of my untreated throat over the last two weeks.
Yeah, it hurts. The kind of hurt that woke me up last night because moving my tongue around in my mouth caused me to yell out in pain. It. Is. Awesome.
But I've spent way too much time over the past two weeks complaining about my yuckies so instead, today I'm making a list of what's making me happy. Because despite the nasty throat, I am in fact quite happy.
::This cup::
I bought this cup at the Rack in Portland a few weeks ago and it has quickly become my constant companion. There was only one left and I complained to my sister-in-laws that it didn't have a "K" on it but then they reminded me of my last name. I'm a little slow.
::My weekend away at my mom's was just what I needed. She spoiled my kids, took care of me and we even managed a quick shopping trip and lunch thanks to my sister-in-law who graciously took the kids. I also managed quick visits with both Kelly and Erica, so life was good, sore throat and all.
::Although it goes against everything we believe in, The Rizz surprised me last night with an early birthday present: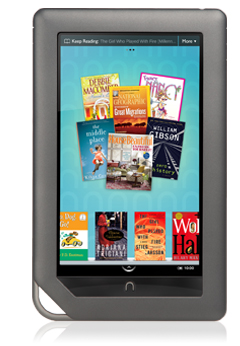 My very own Nook Color, loaded with books he thought I'd enjoy based on everything else I read. He wanted me to have it for our upcoming trip and I couldn't be happier. I love it, but not nearly as much as I love him.
::Speaking of our upcoming trip, OUR TRIP IS COMING UP!!! We are a mere 18 days away and I can hardly stand it. My weekend shopping trip found me the last few things I've been searching for and I'm finally ready. New York City, here we come!
::Antibiotics. Yep, so happy to have them along with their good friend prescription cough syrup with codeine.
::My kids. The idea of taking four kids over the mountains by myself scared the tar out of me years ago, but now it's no big deal. They are awesome in the car, they help one another out, and they keep me entertained with their stories. I know that's not the case in every family and I'm so happy my kids have the travel bug like the Rizz and me. Thanks guys. You rock.
::Rolling in the Deep by Adele. I dare you to not be happy and start swaying when you hear (read: feel) this song. I'm in total love with it. June 3rd in Portland? Who's in???
::Having housework to do. I know, I know, that's crazy talk and it could be the aforementioned codeine but you know in the movie "Return to Me" when grandpa talks about being grateful for the work because it means he has people to look after? That's how I feel. A home to tend, a family to cook for, it's all good.
And it's calling my name.